Crystal and Rowan's wedding had a few pretty big bumps during the planning stages, with their original venue becoming unavailable, there was a rush to find a new perfect place for them to tie the knot and this ended up with them picking a new wedding date; Thursday November 19th, 2015. Despite this, the day itself stayed beautiful, simple and from how it all came together, you would have never known about the mid-planning panic!
Choosing Lindenderry Estate in Red Hill for the wedding was a beautiful choice, on a day that wound up to be so unusually hot here in Melbourne, the lush and cooling surrounds in Red Hill kept the temperature down, making for simply gorgeous weather for their special day.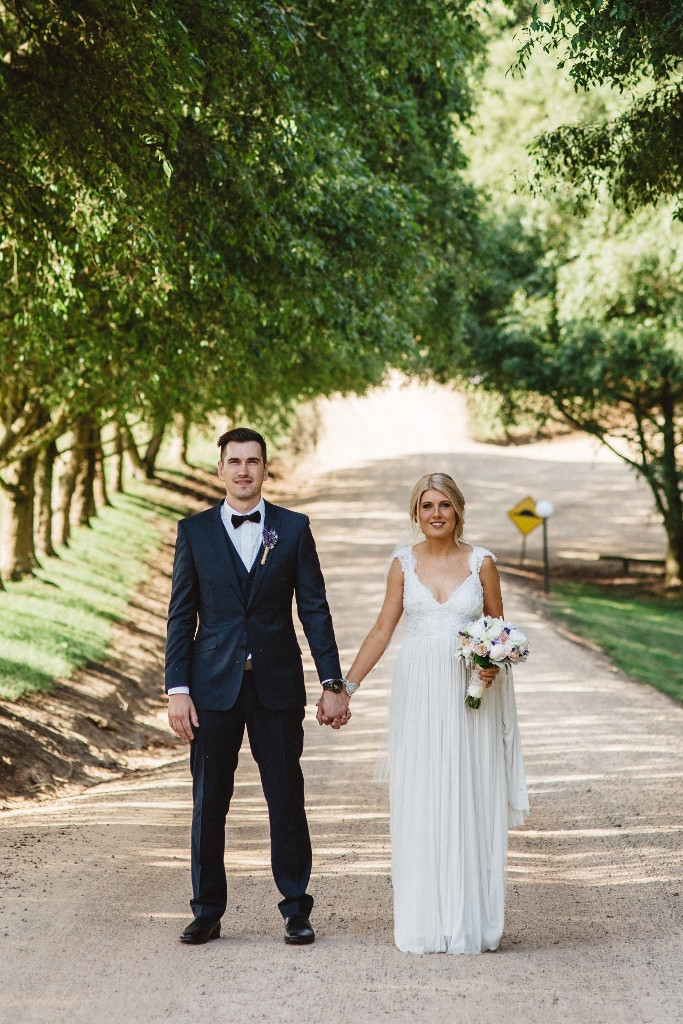 Crystal wore an elegant ivory Grecian style gown, with some beautiful lace on the bodice. Rowan went for a classic look, a three piece suit with white shirt and a black bow tie- these two lovebirds looked like they stepped out of a magazine photo shoot!
Despite the venue change, this did not alter the original colour theme and styling that Crystal had wanted. For the flowers, the planning began around having Lavender boutonnieres for Rowan and his five Groomsmen, from there the colour scheme of lavender and ivory had silver, some pretty latte, very soft and dusty pink tones added.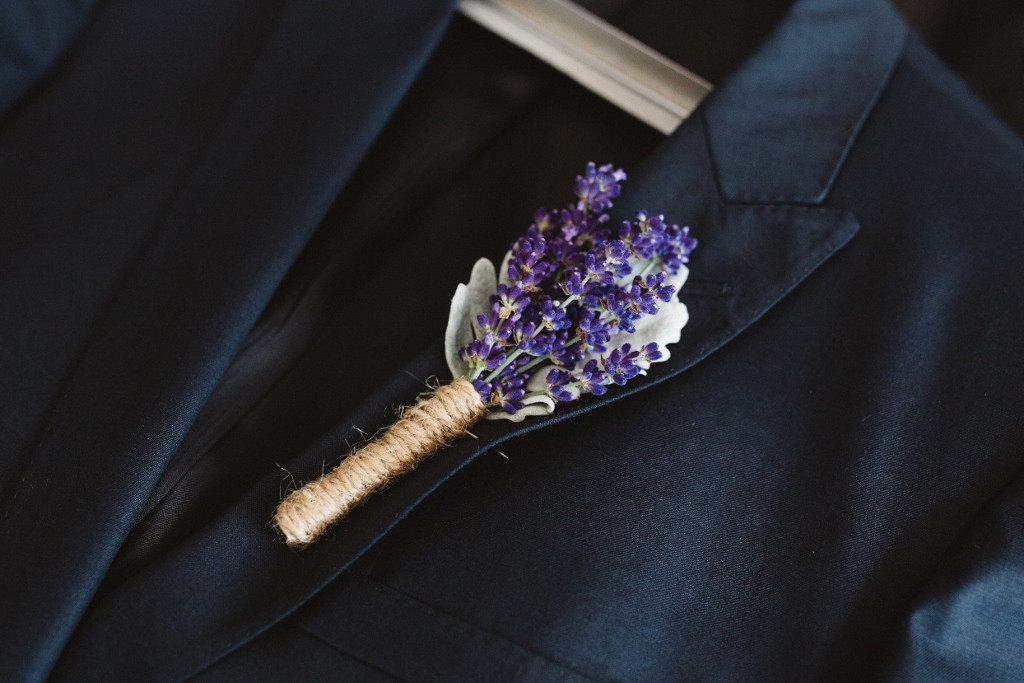 For Crystal and her four Bridesmaid's bouquets, we made up lush and elegant style posies in a semi-relaxed feel. To compliment the Lavender flower buttonholes, we handpicked a selection of stunning seasonal blooms that has a romantic and lush look (Crystal was lovely and trusted us to choose the flowers!). We used Peonies, Roses, Carnations, Lisianthus, Sweet Pea and Freesias, with Lavender flowers and Silver Sued foliage to compliment. We kept some natural green buds attached to blooms, to keep the bouquets form looking to rigid or formal and the stems were bound with natural brown twine, to continue the semi-relaxed feel.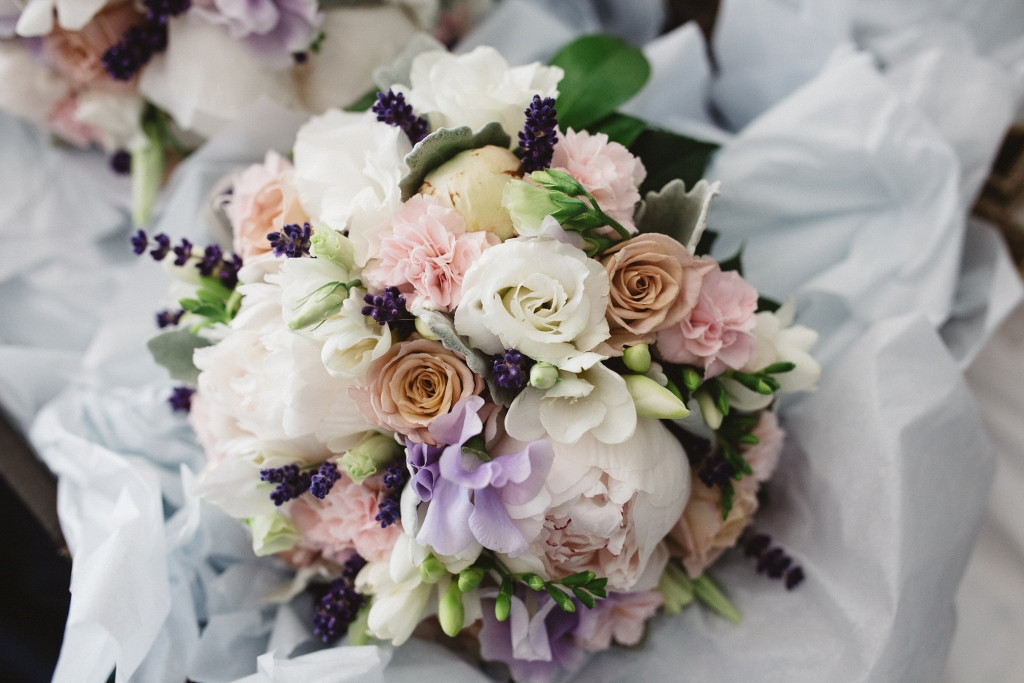 Crystal and Rowan had mixed coloured fresh rose petals for their guests to throw at the end of the ceremony, providing for some really stunning photos!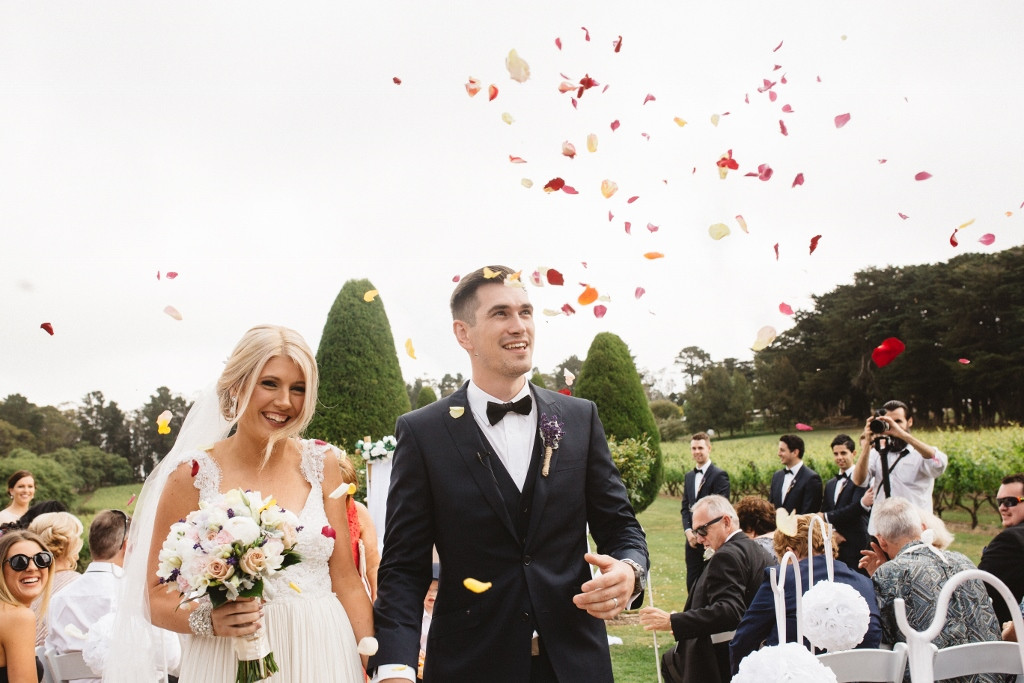 The reception styling was so elegant. The reception room at Lindenderry is very simple and clean, allowing us to add to it and tie every detail of the wedding together. Crystal supplied us with whiye, laced topped tins (from ikea!) for us to fill with lush posies of flowers to suit the colour theme and to match the bouquets. Each of the round guest tables had three tins in the centre, sitting simply on white table cloths, with tables numbers in white frames placed beside the cluster.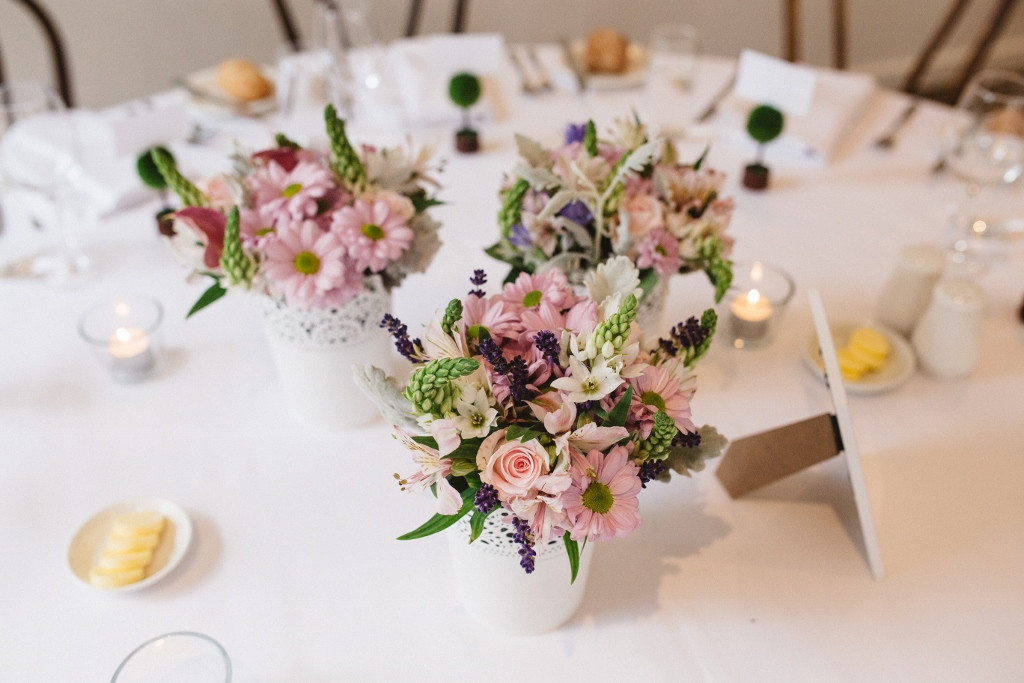 Crystal and Rowan's bonbonniere doubled as their place card holders- they had the sweetest miniature topiary trees, with place cards sitting on top, featuring lavender flowers. A few tea light candles scattered around the base were perfect to create a romantic ambiance later in the evening. The attention to detail to tie everything together was perfect.
The guestbook table was decorated with a lovely minimalist feel. Adorned with a simple wooden triangle with a delicious scented candle, a Kiki-K guest book and one tines of flowers to match the guest tables.
For their wishing well, Crystal selected a pretty vintage birdcage, that we decorated with simple blooms to match the bridal bouquets.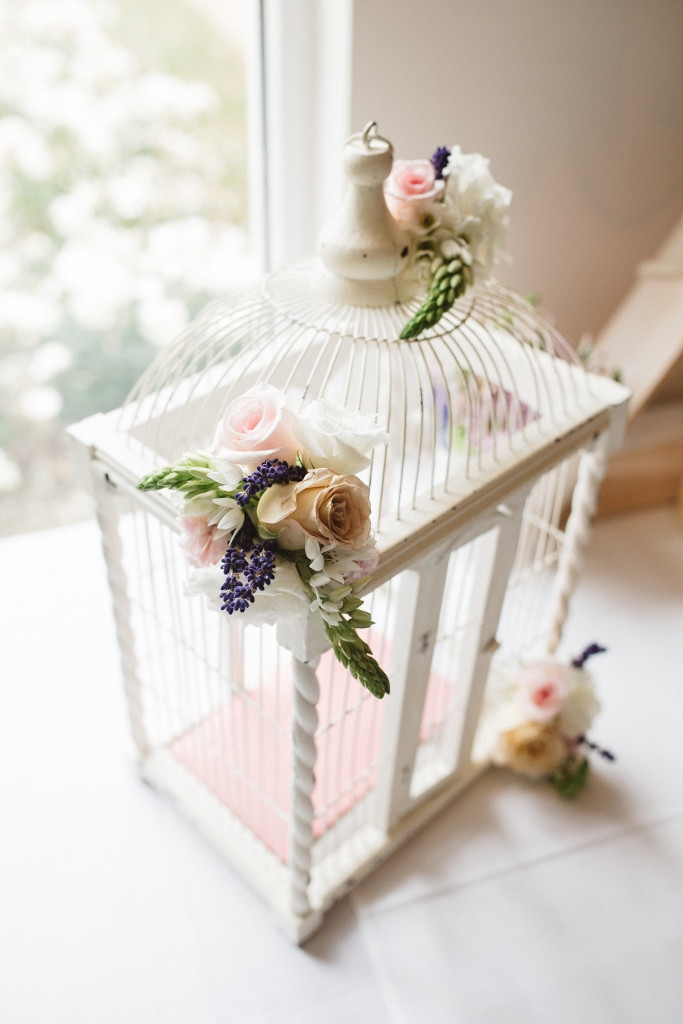 Crystal and Rowan's wedding cake looked divine, we really had to hold ourselves back from sneaking a piece while we decorated it! We complimented the two tier cake edged with layers of ruffled white icing, with two simple sprays of fresh flowers to match Crystal's Bridal Bouquet. We placed one spray say on top and one on the bottom, to avoid from "over doing it." The cake was positioned beside the bridal table on a wine barrel, on top a solid wood cake board with just a few tea light candles to keep the wood from feeling too strong.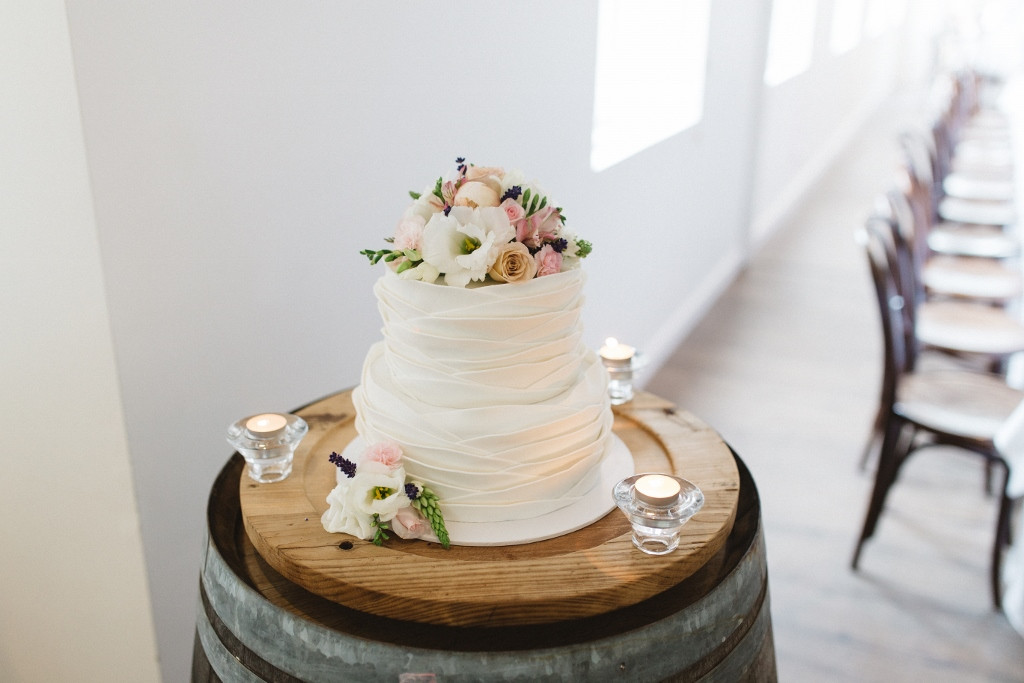 We were completely blessed to have Crystal and Rowan chose us to create the perfect floral arrangements for their wedding day.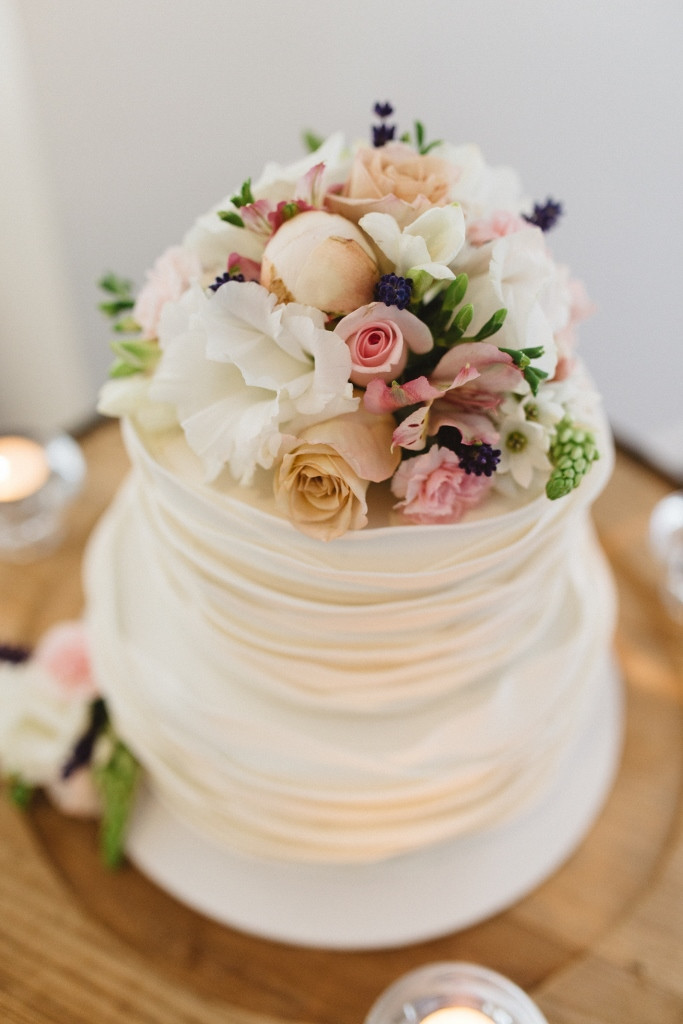 Flowers: Wedding Flowers by Emma Elise
Venue: Lindenderry Estate, Red Hill http://www.lancemore.com.au/lindenderry/
Photographer: The White Tree: http://www.thewhitetree.com.au/
Cake: Caity's Cake Basket: https://www.facebook.com/caityscakebasket/
Hair:  VaHairDo by Danii-Elle Chalmers: http://www.vahairdo.com.au/
Make Up: Forever Flawless by Jamie-Lee Emmett: https://www.facebook.com/Forever-Flawless-by-Jamie-Lee-927373913949180/